Manhole Cover Magnets: Moscow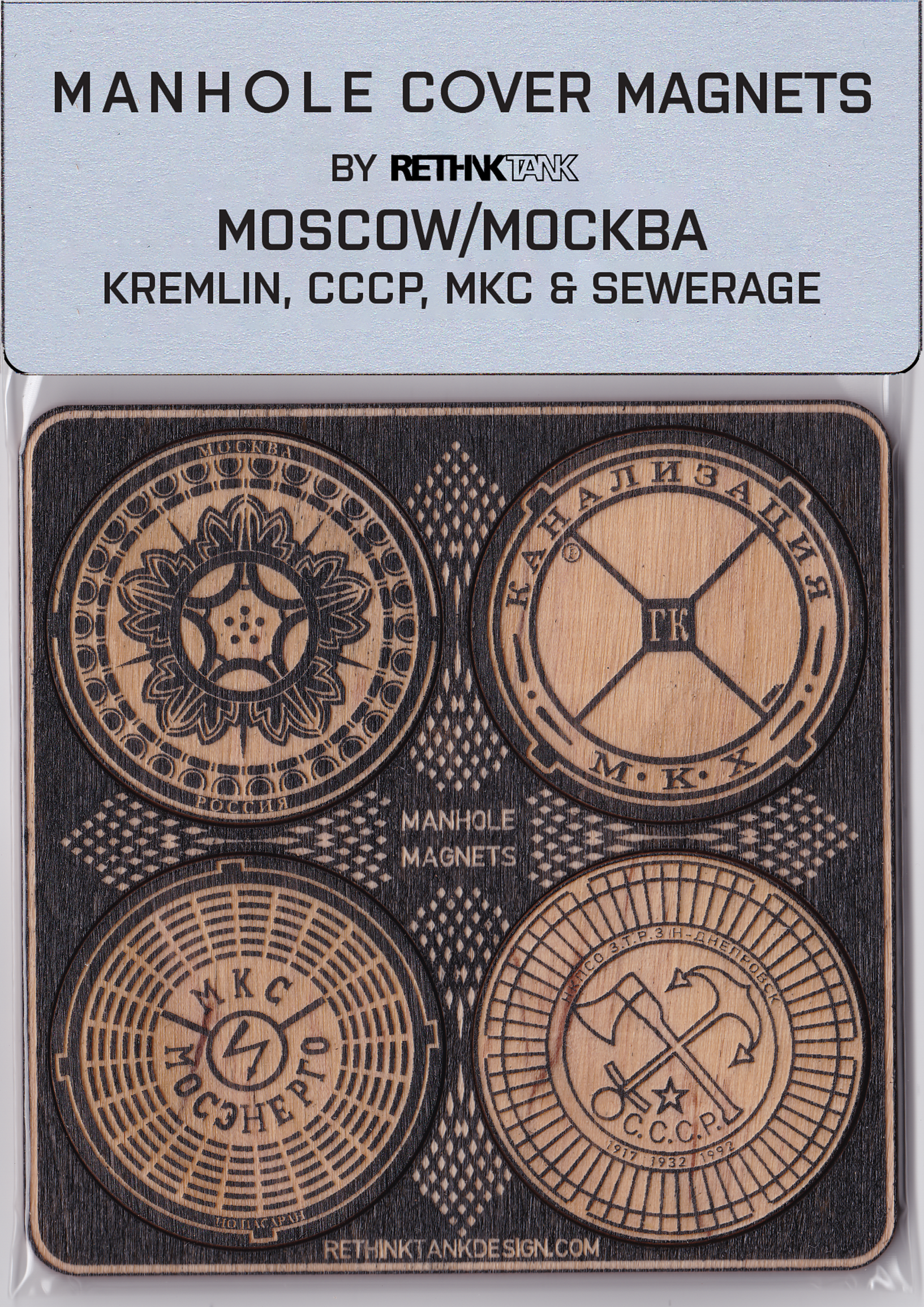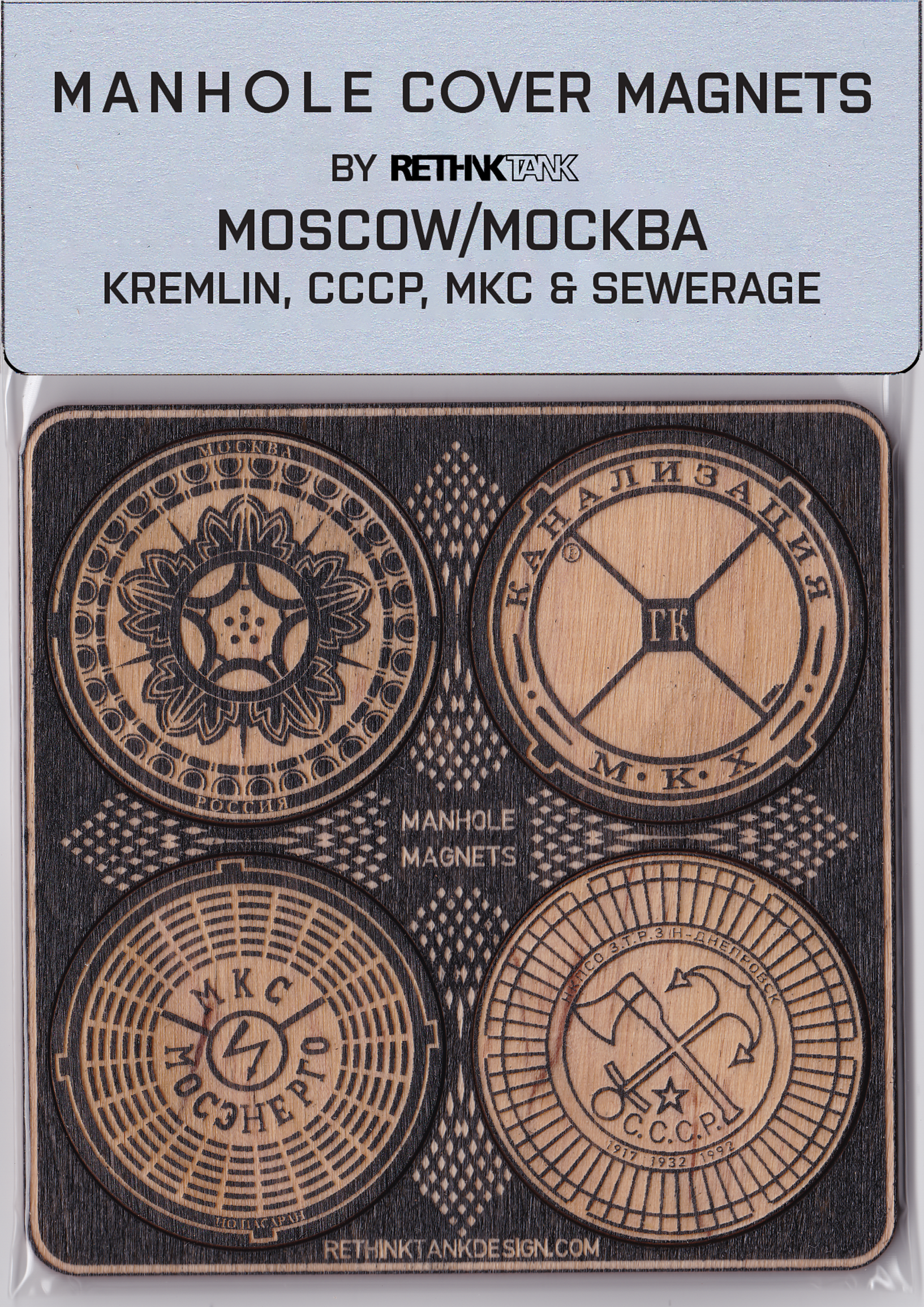 Manhole Cover Magnets: Moscow
THE HEART OF RUSSIA, MOSCOW WAS BUILT ON THE BANKS OF THE MOSKVA RIVER AND THE BACKS OF ITS PEOPLE SINCE ITS FOUNDING IN 1147. THESE FOUR COVERS CAN BE FOUND IN THE CENTER OF MOSCOW. THE FIVE SIDED BEAUTY CAN BE FOUND IN A COURTYARD OF A LOVELY CAFE AND IS ALSO IN TRIVET FORM. THE CCCP COVER OBVIOUSLY DATES FROM SOVIET ERA WITH ITS STAR EMBLEM, GRAPPLER AXE AND ANCHOR. THESE COVERS WERE PARTICULAR TO THE PEOPLE'S COMMISSARIAT OF RAILWAYS, OR NKPS UNTIL 1946. THE MKC COVER IS FROM THE 1940'S WITH THE EMBLEM OF THE MOSCOW CABLE NETWORK (MOSENERGO.) THE COVER WITH THE WORD SEWERAGE DATES FROM THE EARLY 1930'S AND CAN BE FOUND IN RED SQUARE, WITH DETRITUS IN ITS CAVITIES LIKE A CIGARETTE BUTT AND A STOLI BOTTLE CAP. ALL MAGNET SETS ARE COASTER SETS TOO.
HANG THAT A+ PAPER ON YOUR REFRIGERATOR WITH A MANHOLE MEMENTO FROM YOUR FAVORITE CITY. EACH MAGNET REPLICATES A REAL MANHOLE COVER FROM CITIES AROUND THE WORLD AND ARE PERMANENTLY ETCHED INTO WOOD.
EACH MAGNET IS 1.75" (45MM) IN DIAMETER AND .125" (3MM) THICK.
THE ENGRAVING METHOD HAS INCREDIBLE DETAIL AND TACTILITY.
INSANELY STRONG NEODYMIUM MAGNETS CREATE A REVEAL OFF ITS MOUNTING SURFACE FOR EASY GRIP.
THE SET COMES IN A CAST IRON FINISH AND ARE FABRICATED FROM SUSTAINABLE BIRCH PLYWOOD.
ALL PRODUCED AND PACKAGED IN PHILADELPHIA, PA USA. SHIPPING WITHIN THE USA IS FREE!
SHIPPING TO CANADA IS $10. SHIPPING TO EUROPE IS $14. OR SEE THE INTERNATIONAL SHIPPING OPTIONS.
AS EACH ONE IS HANDMADE PLEASE ALLOW FOUR BUSINESS DAYS FOR DELIVERY.
LISTING IS FOR THE PACKAGED MAGNET SET ONLY.